The curriculum at The Swan School is tailored to provide a rigorous academic education. We have the highest expectations of what students will learn and encourage them to learn quickly and securely, while being sympathetic to all abilities. The subjects taught are broadly traditional, but all students will be motivated to stretch themselves beyond what is normally expected in English, mathematics, sciences, French, history, geography and religious education. Alongside this, and seen as of equal value, is their learning in art, design and technology and music, in which they are taught to both appreciate the achievements of others and to develop their own creative abilities. In all subjects, the emphasis is on expertly-designed learning, with high levels of structure. There should be absolute clarity for all on what students are expected to know and do at each point. No time is spent on tasks that don't move students on.
This is also evident in the provision of independent work – some of which is completed in the independent study periods at the end of the day, and some at home. This should be purposeful, clear and useful, normally involving practice or learning by heart of material taught in lessons. Everyone at The Swan School is expected to work hard, guided by the belief that, through effort and dedication, wonderful things can happen. Students will be expected to show commitment, self-discipline and responsibility in their studies. As a result, they will produce high quality work and learn to achieve more than they thought possible. Their teachers and support staff are expected to show the same level of dedication and so experience the professional joys and satisfaction that is brought by helping young people to learn and grow.
The Swan School will always be an inclusive school, ensuring that all students learn well, no matter what their previous experiences of learning, background or circumstances. Our experience in schools confirms that all young people can learn challenging content. Therefore, our approach to teaching students with SEND or other barriers to learning is to ensure that classroom delivery and organisation is of the highest standard, and to intervene immediately when evidence shows that a student is falling behind. If a student demonstrates lower than expected levels of literacy or numeracy in the early years, intensive teaching will be provided to ensure that this is, where possible, remedied.
On the right is a table showing the proportion of the curriculum devoted to each subject in year 1 over a two-week period.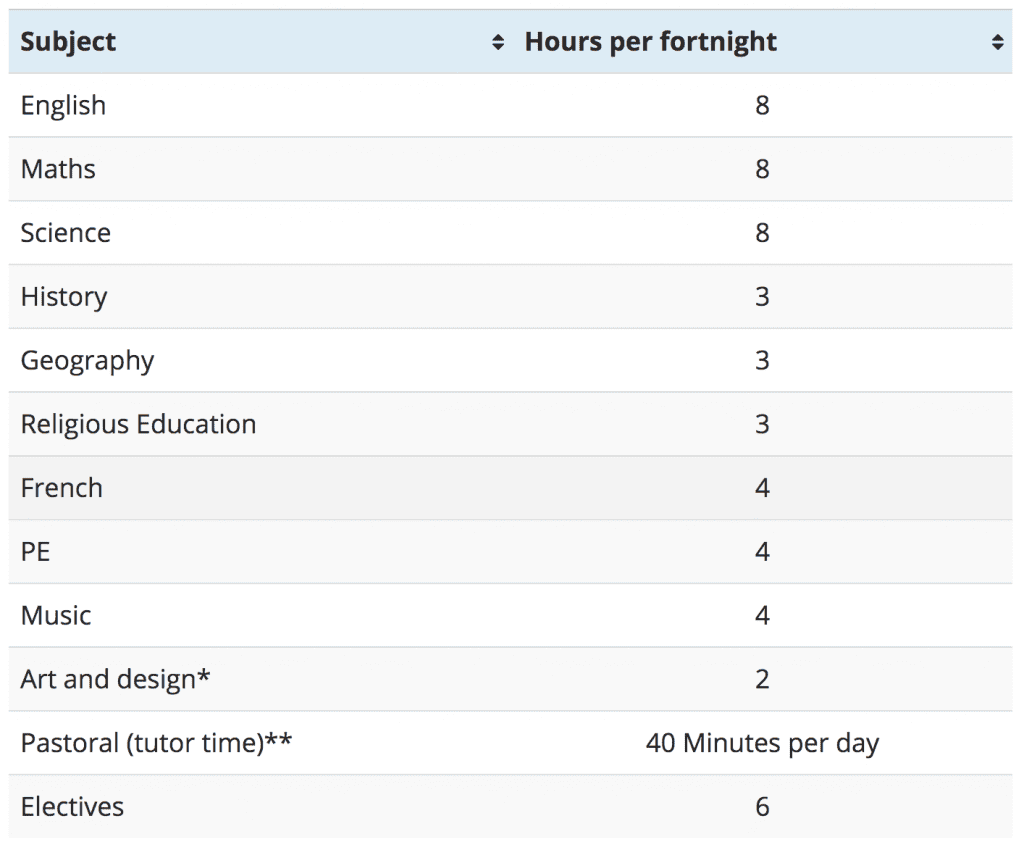 *Reduced time for the first year given the limited specialist facilities available for core lessons. These hours have been distributed to other curriculum areas, for example music and electives. **This will include assembly, guided reading and a pastoral curriculum on social and personal development.