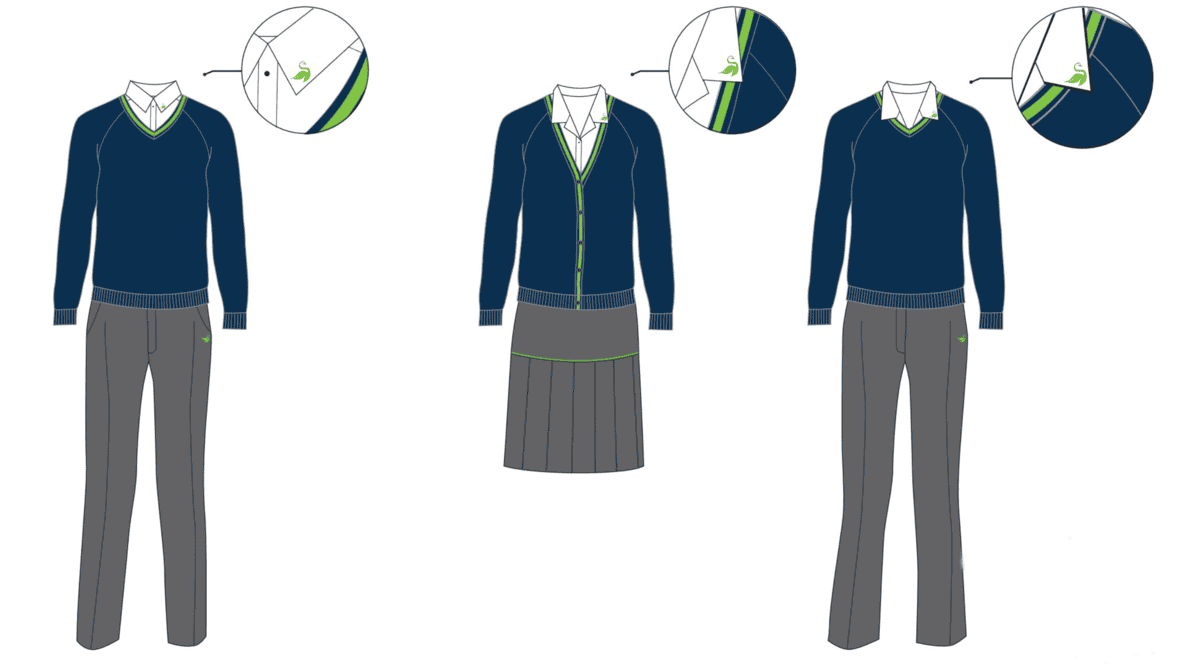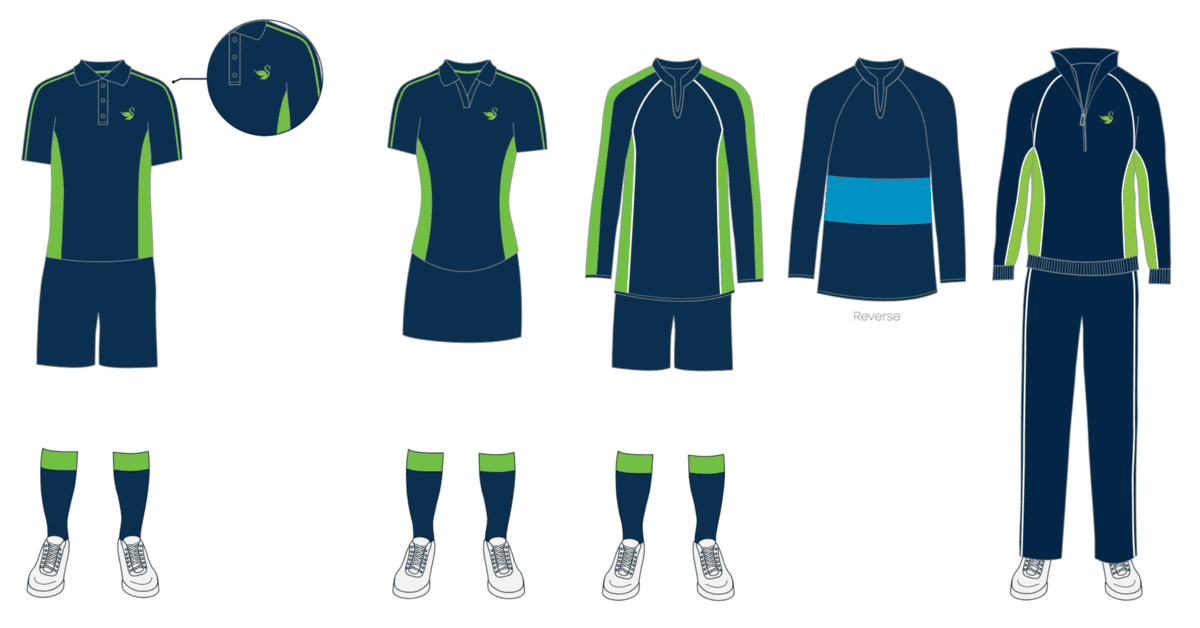 The Swan School has a uniform to embed our professional learning environment. Also, it helps to create an 'even playing field' amongst our students and reduces the risk of discrimination and bullying. Our school uniform is designed to be smart, practical, durable, and affordable.
Any items with a swan logo or distinctive swan trim must be bought from Price and Buckland. Other items may be bought from other appropriate sources, as long as they meet the school specifications. Sew-on school badges may be bought from the school to be added to school-appropriate grey 'bottoms'.
All students must come to school in correct uniform and fully equipped. They will receive a detention if they do not meet our expectations. Spare equipment is available to buy from the school office at cost price every day. Students wearing incorrect uniform will be asked to change into spare uniform and will not be permitted to attend lessons if they refuse.
Hair & Make-Up – students are permitted to wear discreet make-up and nail varnish. Long 'acrylic' nails are not permitted as they create a health and safety risk and prevent students fully participating in the school day.
Jewellery – students are permitted to wear items of discreet jewellery. Students must not wear jewellery items that pose a health and safety hazard, for example hooped/dangly earrings – students will be asked to remove these and they may be confiscated. Smart watches that connect to a mobile device are not permitted.
Second hand uniform – Our parents association, SwanComm, accepts donations of second hand uniform, and will sell this second hand uniform at events such as SwanFest. Please see the SwanComm website for details of upcoming events. SwanComm also use the 'Marketplace' section of Classlist to allow parents to buy and sell uniform to each other. Please register for Classlist to use this service.

White shirt/blouse with the swan logo or plain white shirt/blouse
Grey trousers/skirt/shorts with the swan logo
Navy jumper/cardigan with green trim
Black shoes – includes trainers/boots but must be completely black.
Swan navy PE polo top with green panels and/or Swan navy long-sleeved top/sweatshirt

Navy sports socks with green stripe (optional)




Navy blue bottoms/leggings



Sports (not fashion) trainers suitable for a range of activities
Plain winter coat (no hoodies) – we recommend a waterproof item. A high-visibility cycling jacket is also acceptable.
Plain black or grey socks/tights
Practical, plain school bag, large enough to hold all school equipment required. We recommend a rucksack. A high-visibility cycling bag is also acceptable.
Large, clear pencil case
2 x black/blue pen
2 x pencil
Green pen
Ruler (we recommend 30cm)
Rubber
Sharpener
Scientific calculator (fx‑83GTCW or fx-85GTCW with solar panel)
Student planner and homework jotter – will be provided by the school
Reading Book